In Africa: A Conversation with Ajoke Amusat, an agricultural aggregator. It all started with a Tweet.
I remember the first time I tasted strawberry, I was disappointed. All I kept hearing in my head since that day was "Is this your king?"
Now I have an answer to that question and many others after my conversation with Ajoke Amusat, an agricultural aggregator who runs the Grocery Lady. 2 years ago, Ajoke, a graduate of performing arts, wasn't sure about what she was going to do next. When I asked her what she hoped to do with her performing arts degree she replied, "I don't know, I just knew there were companies like Banks that hire just graduates irrespective of what they studied." 
In my conversation with Ajoke, she talks about how without any business background or prior desire to run a business she started and runs a thriving business which has served over 500 customers with about 70% returning customers.
Before we hear from Ajoke, first a brief explanation of what this is about.
For us at Cloout, News stories are only one source of stories, often a secondary version of stories. We've decided to go directly to the origin of stories: people. This is a new monthly series called In Africa dedicated to entrepreneurs in Africa. We'd be learning from the everyday stories of business people around Africa. We believe most people follow news stories to know what's happening around them and to understand how the world works. These interviews do the same via a different format.
---
I know you studied Performing Arts, so how did we get here?
It all started in 2018 when I was posted to Jos for the National Youth Service Corp (a Compulsory one year of service to Nigeria by graduates). When this happened I didn't want to come to Jos because of the stories of crisis (see: 2001 Jos riots, 2008 Jos riots)I've heard.  So I came just to see how it is. But when I came to camp, I enjoyed it. It was calm and people were very nice. I've lived all my life in Lagos and Ilorin, so when I came here it was different from Lagos - where there's noise and the weather is different.  So I told myself I didn't want to redeploy, unlike others. I'd stay here for one year and see how it goes.  My place of primary assignment was the Ministry of Tourism, culture and hospitality because of what I studied.  It was good but it still didn't feel just right. I felt something was missing.
Until one day I was walking with a friend and I saw strawberries being hawked on the road like Gala in Lagos. It was surprising because strawberries were 'luxury' fruits in Lagos, mostly found in supermarkets. I asked for the price and she told me it was 500 Naira. I immediately told her she was lying because I couldn't believe it. I bought two packs and we parted ways. I kept on looking back expecting her to turn back to say something else because a pack of strawberries of that size in Lagos is typically 2,500 Naira, but she didn't. It got me thinking, how come I spent all my life growing up in Lagos and I never knew Strawberries grew in Jos? The strawberries in Lagos are foreign and don't taste anything like the strawberries in Jos which are sweet and Juicy.
It was there and then I made up my mind that I was going to spread the good news. People in Lagos need to know that this exists here. So I tweeted Strawberries for sale and I got a lot of orders (over 300 inquiries) on Twitter. I couldn't use my phone for the whole day because people kept on calling me. 
Wow, just like that. I'm one of those people who redeployed, I wonder if I had stayed...well strawberries didn't grow in Yobe. 🙈
Okay, you said most strawberries that are sold in Lagos are foreign, why is this so?
This is because the strawberries in Jos do not have preservatives, It's straight from the farm to you but the strawberries you see in the stores have preservatives, which is why they're shiny and can go for many days in the fridge looking that way. The ones from Jos can only last about 5 days before they spoil. The strawberries in Jos are also seasonal, they only grow once a year and these supermarkets sell all year round.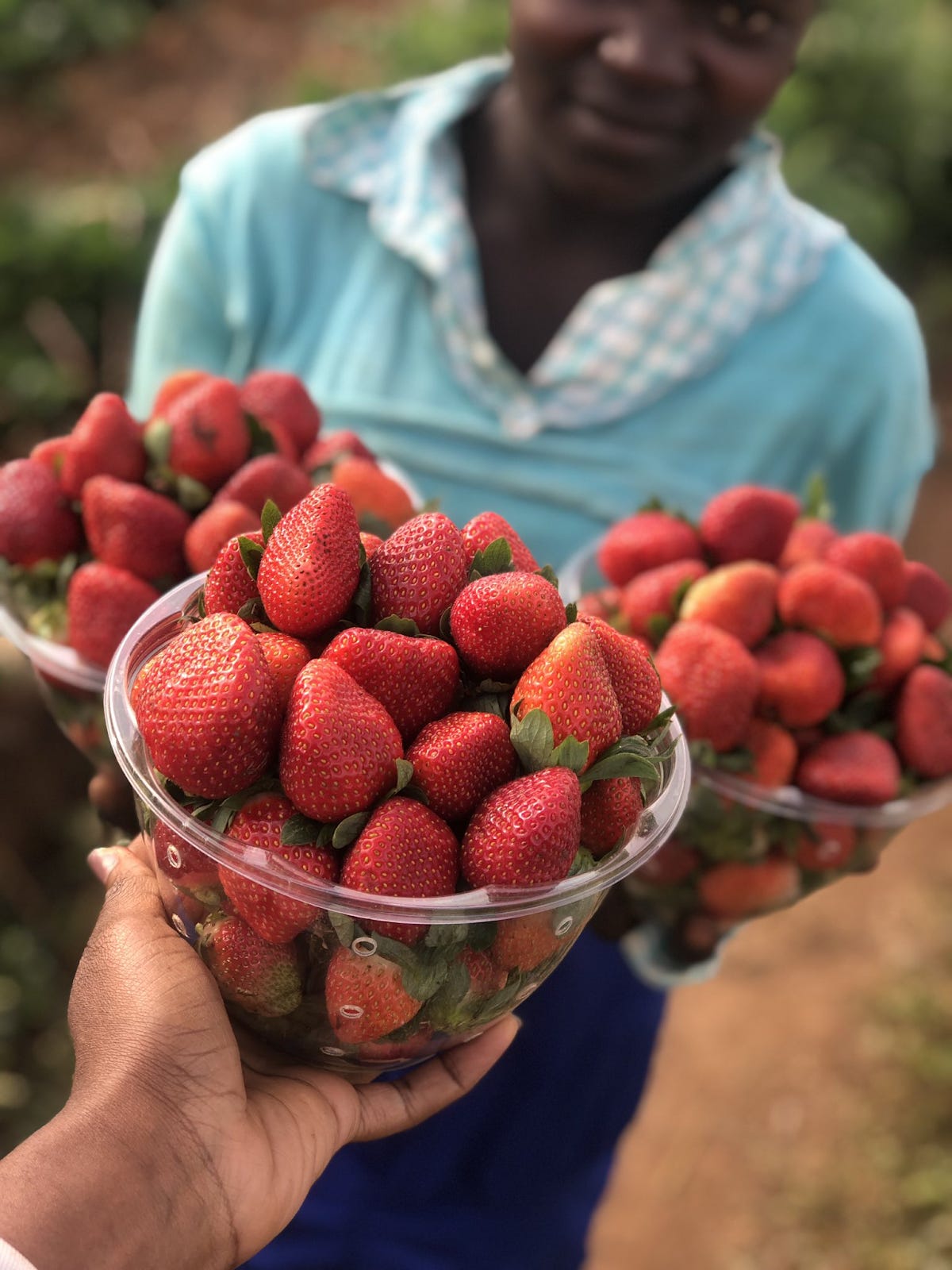 Do people prefer homegrown strawberries to the ones in the store?
Yes, they do. Foreign strawberries are mostly half-ripe — so they can last long — so they taste kinda sour.
Interestingly there was a recent post that went viral, someone was saying that Strawberries aren't sweet. It was on Twitter & Instagram and all my customers were tagging me. Telling people that they haven't tasted Strawberries from Jos. I felt really fulfilled. Parent & School Kids actually love the strawberries from Jos. Good news is November is Strawberry season.
Well, that's something I can relate to, Strawberry tasting 'sour'. And I'm looking forward to November.  
So How does this business work?
I work with a group of growers. People who grow different fruits & vegetables. I bring the money, they bring the fruits & vegetables. 
I partner with about 45 growers who own farms and workers.  I started with Strawberries but moved into other fruits and vegetables.  We transport the fruits & Veggies to a few states in Nigeria via a flight from the Jos airport.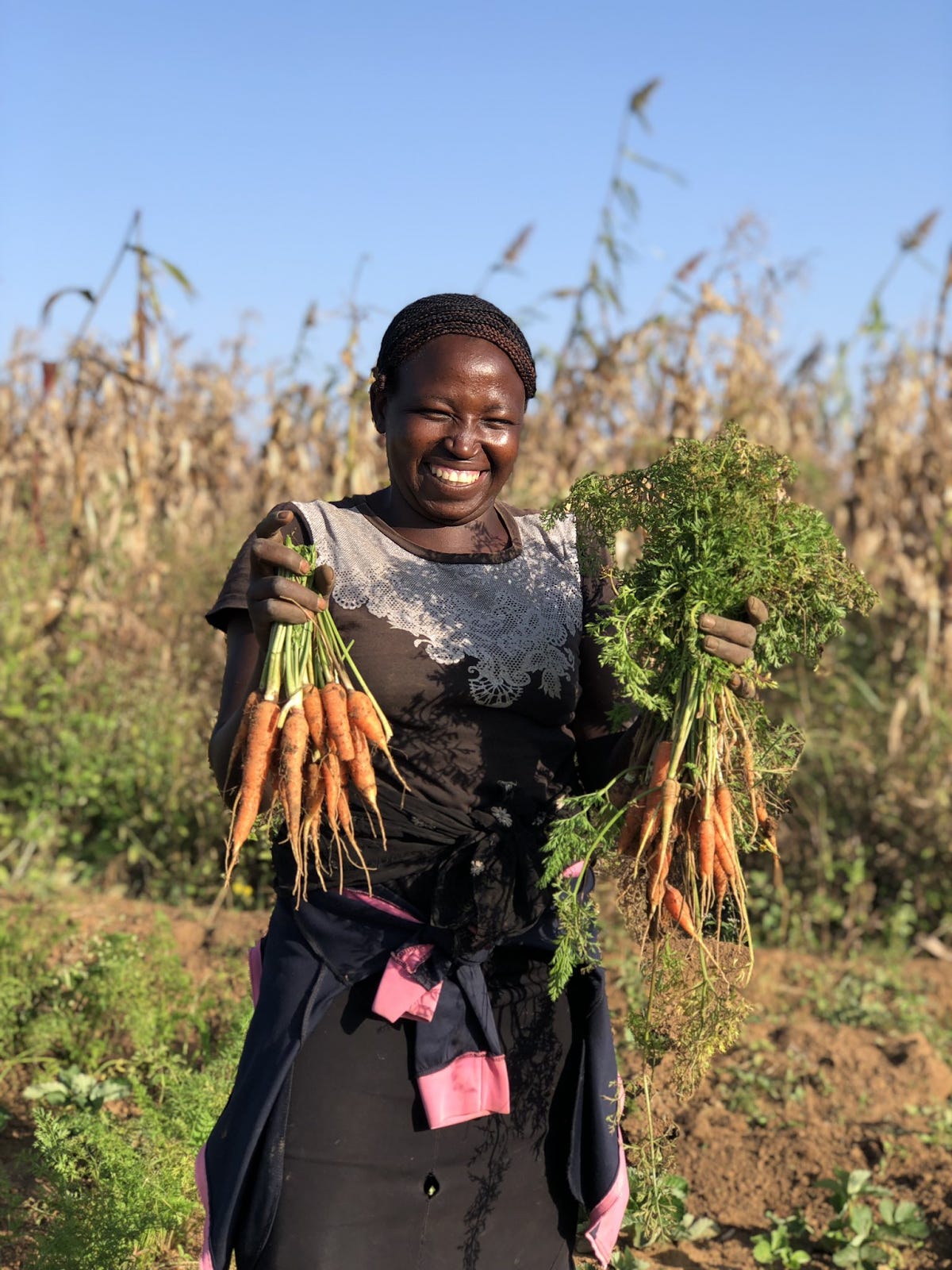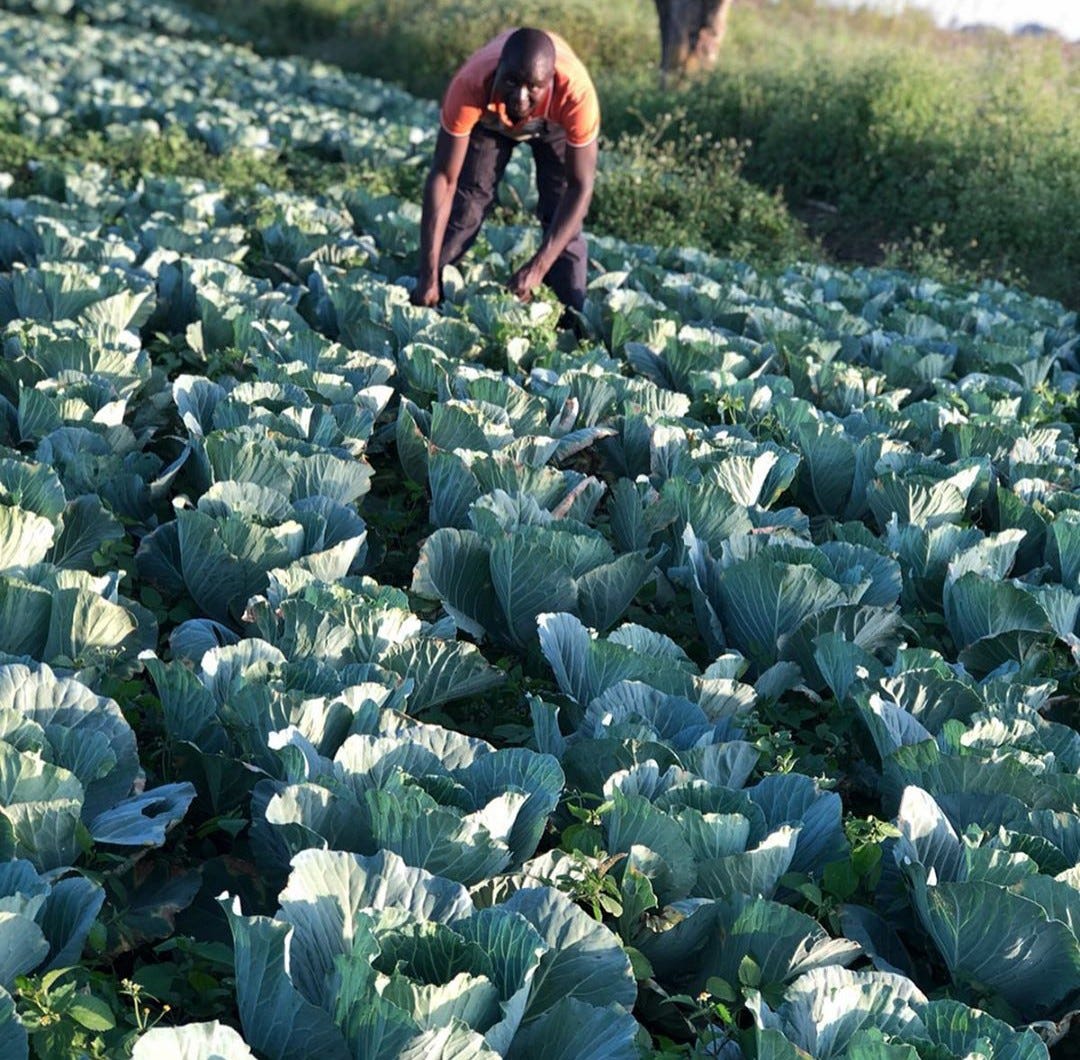 Isn't Flight more expensive than road?
Well not really, based on experience. The roads aren't good, anything could happen on the road - accident, traffic. Let me tell you about what happened during the COVID lockdown.
There were no flights so we had to send our products via road because people were requesting for fruits and vegetables. We got a cooling van, by the way, there aren't many cooling vans in Nigeria. So we rented one that's being shared by many agriculture aggregators in Nigeria. In transit there were many other people on the road — Nigerians don't listen to instructions, the soldiers stopped cars to check if they have permission to be on the road and this caused a huge hold up that even affected those of us with permit since we couldn't jump the queue to say we have a pass. 
It was really bad, a lot of products spoilt in transit and on the farm. And we had to tell our customers we can't deliver because we didn't know when things would go back to normal. We went on a break for a month. It was sad and depressing. 
So no, I don't ever think about using the road as an option except it's a nearby state.
Hmm, that's sad to hear. I'm glad that phase is over.
I see you're really active online, what's your social media strategy like?
It all started with posting pictures and updates on Twitter and at first, I was just selling on Twitter, people would transfer money and we'd deliver to them. But after a while, I noticed Instagram was a better spot to share images of fruits and also my journey. So now it's just Instagram, I've stopped using Twitter.  All my followers (11.5k) have been organic, no influencers, sponsored posts or anything. One more thing though, I don't focus so much on that, I look at engagements — likes, comments,  and conversions —how many people are actually buying.
How's it been selling online & dealing with trust issues?
Fortunately, all my customers have always trusted me so they paid me before receiving their goods.  It started with bank transfers after tweets and posts on Instagram but after a while, I moved to use a platform ( Selar ) to sell my goods. It was easier because people could order their products and pay via cards or bank transfer, but after a while we noticed something. There were many abandoned transactions. When we asked why, the response was that customers had card issues or network failure (a typical challenge with the online payment space in Nigeria), which made them sceptical about making the purchase. We had to rethink what we were doing. About 40% of our customers loved using Selar, while the other preferred the one-on-one approach. For now, we've reverted to bank transfers and WhatsApp messages. We put out our price list - which contains the products we have and their prices -  out every week, so when customers reach out they go straight to the point.
Isn't this stressful?
Not really, it's easy. They order via Whatsapp, we send them an invoice first and a receipt when they pay. But we're doing this only because we're building our website. I'm taking the feedback from the previous & current interactions with customers to build a website with a great experience.
Hmm, sounds like a great business, one tweet and boom!
Well, Even though I started with a tweet, I've also lost a lot of money. In the beginning, we got so many things wrong. I didn't mention that after the first tweet, most of the orders arrived spoiled or melted. After the service year, most of my friends left and I was alone to figure this out. There was even a time I had to try to raise some money from my family and they were telling me I should come back home. There was also a two weeks riot period in Jos, where I couldn't go anywhere. My parents were asking me what am I still doing in Jos? 
Thankfully I pulled through by learning on the job, asking questions - lots of questions. 
I also met other agricultural aggregators who have been kind enough to teach me a few things. Any time I need their help I just call and they're always down to help. It's different here, nobody is trying to hoard knowledge, because they believe they can't serve the whole market.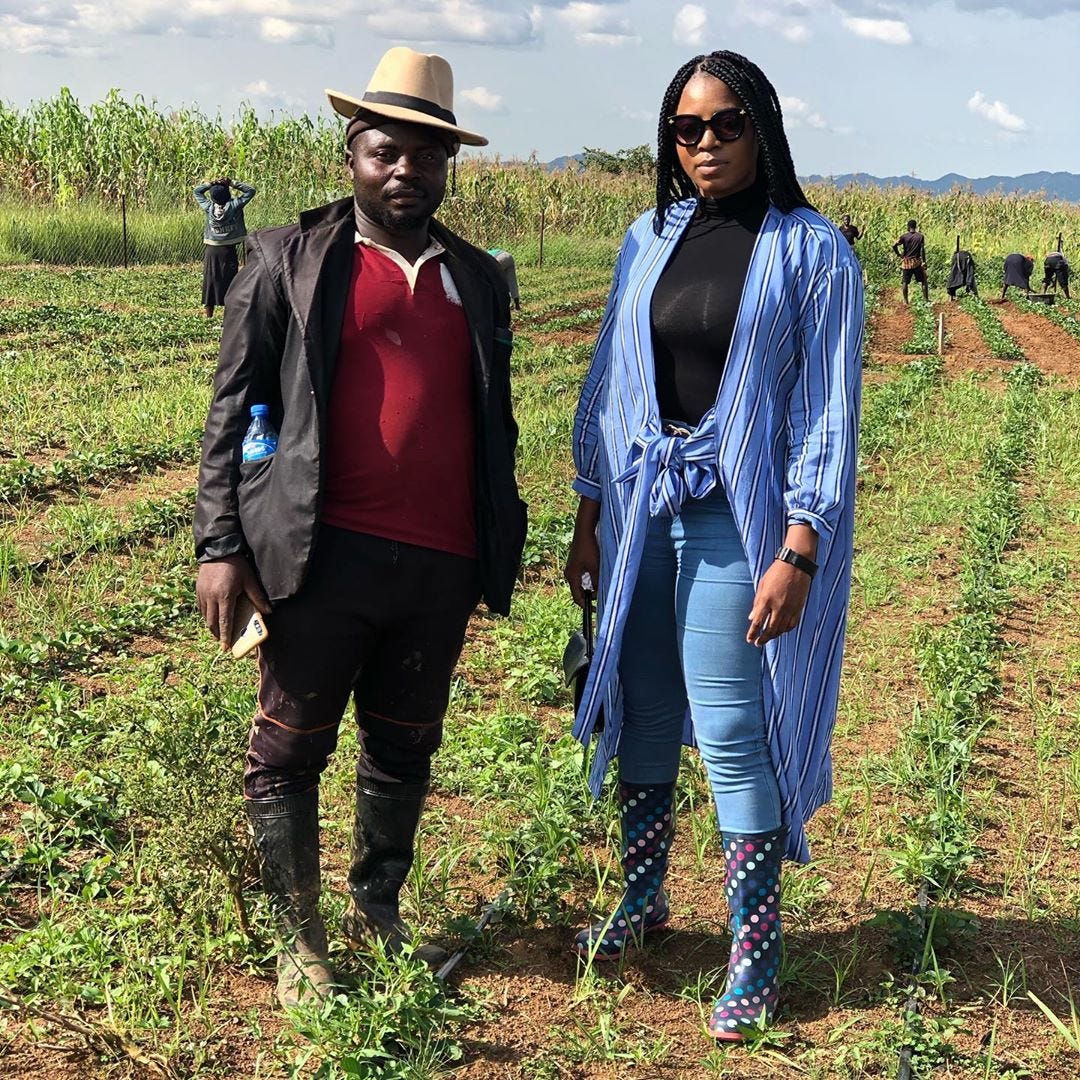 Yup, that's Ajoke by the right in the picture.
I'm curious, What's the profit margin on the products you sell?
For the rare products, the profit margin is as high as 100% while less rare products have a margin of about 50%. We never go below 50%.
One more thing I'd like to add here is I've learnt to know your worth & ask for it. There are some people that complain saying it's too expensive but I've stuck my guns to my price because I know how much effort we put into giving people quality products. It's fresh produce straight from the farm to the customers.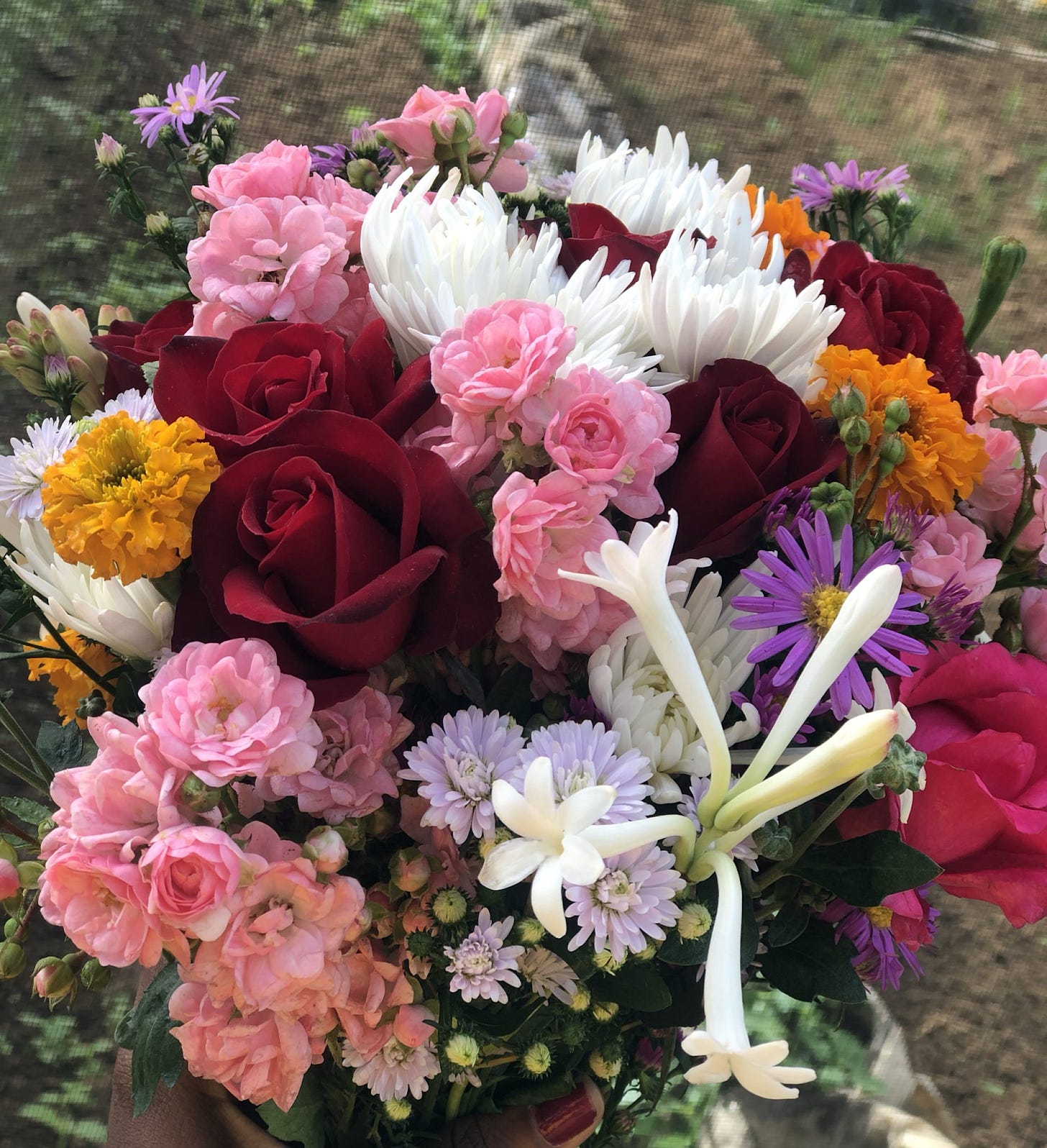 Great! Okay, final 3 questions.
What would you invest in right now if funds weren't an issue?
A Cooling Van with Sirens that goes wion wion wion. [ Yes, she made the sound 😂]
Experiment with other products. We're currently planting Apples, Raspberries, Blackberries, Kiwi and others. We're looking to start selling these soon.
What other business do you find interesting and think you'd like to try out?
Nature Food photography. People always ask me about the pictures on my Instagram page, how are they so good? Who takes them? I just tell them I use my iPhone. I take my time and take good pictures. I wish we had more people who took pictures of Natural food. 
What's one business you have no clue about?
The beauty industry: Makeup. I see professional makeup artists with so many tools and products. I wonder how they know how to use all of that, where and when to use each of them. It's very fascinating.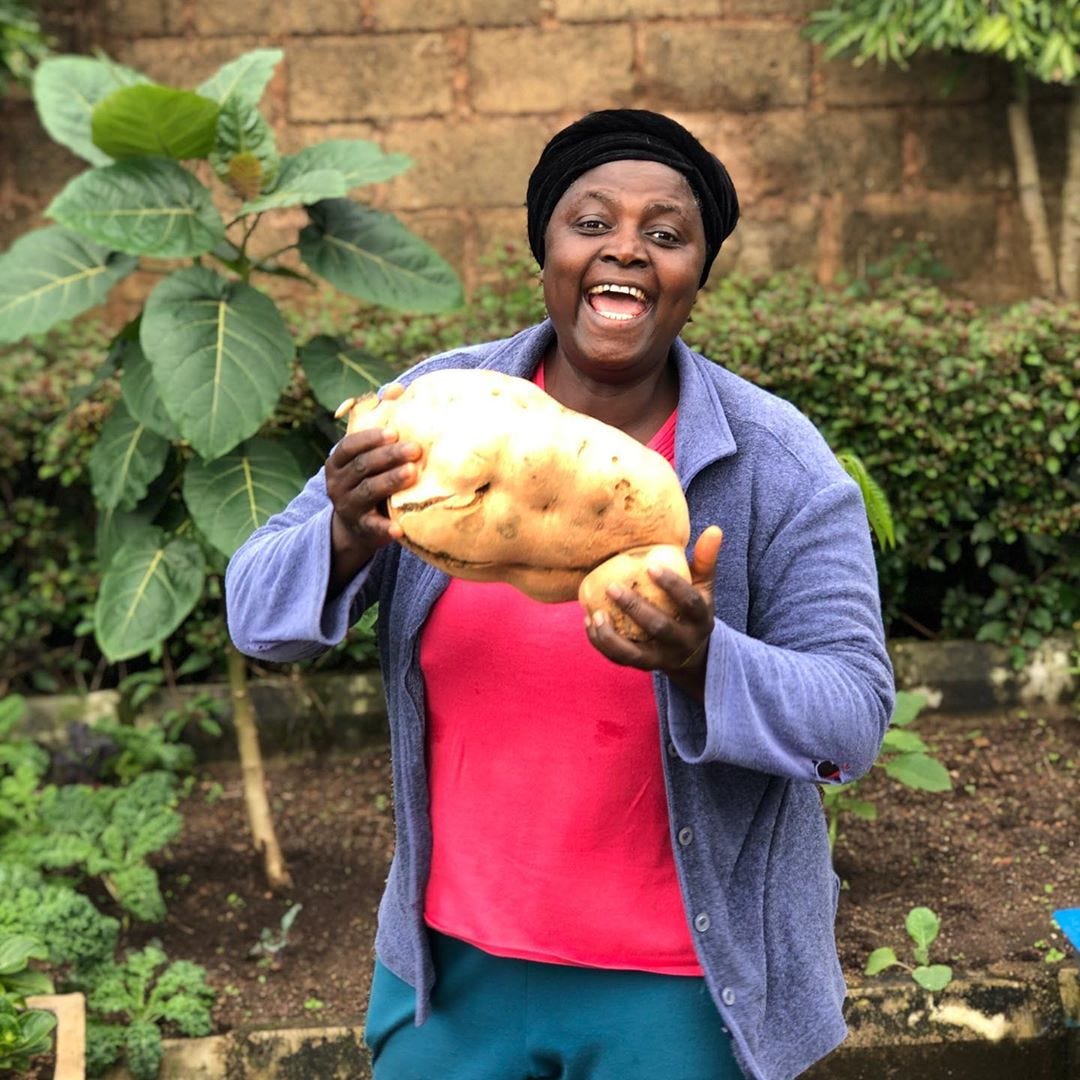 ---
I had a great time talking with Ajoke whose business started with a tweet, I can't wait for November to try out Jos strawberries.
👋Do you know any entrepreneur in Africa with a story worth hearing? Please recommend by filling this form.
Thank you for reading 💙
PS: The best way to support this newsletter is by sharing it with another person. Please use the share button to spread the word and grow our budding community.